Year 10
Year 10
BTEC Level 1/Level 2 First Award in Business
The Edexcel BTEC Level 1/Level 2 First Award:
● is a level 2 qualification; however, it is graded at Level 2 Pass, Level 2 Merit, Level 2 Distinction, Level 2 Distinction*, Level 1 and Unclassified
● is for learners aged 14 years and over
● is a 120 guided-learning-hour qualification (equivalent in teaching time to one GCSE)
● has core units and optional units
● has 25 per cent of the qualification that is externally assessed. Edexcel sets and marks these assessments
● will be available on the National Qualifications Framework (NQF)
● presents knowledge in a work-related context
● gives learners the opportunity to develop and apply skills in English and mathematics in naturally occurring, work-related contexts
● provides opportunities for synoptic assessment. Learners will apply the skills and knowledge gained from the core units when studying the optional units.
Types of units within the qualification
The BTEC First qualifications have core and optional units.
Core units
● each qualification has core units totalling 60 guided learning hours.
● these compulsory core units cover the body of content that employers and educators within the sector consider essential for 14–19-year-old learners.
● there are usually two contrasting types of core unit. One type focuses on essential knowledge and the other type focuses on applying essential vocational skills.
● One of the core units is externally assessed.
Optional units
The remainder of the qualification consists of specialist units. Specialist units are sector specific and focus on a particular area within that sector.
Qualification structure
The Edexcel BTEC Level 1/Level 2 First Award in Business has core and optional specialist units.
Learners must complete the two core units, and a choice of two optional units (chosen by the teacher).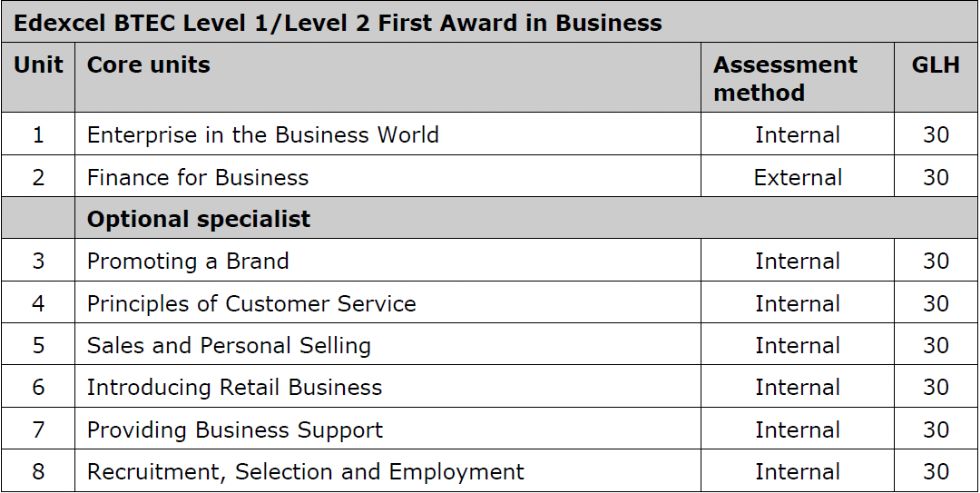 This BTEC First Award has units that your centre assesses (internal) and a unit that
Edexcel sets and marks (external).