Year 9
Year 9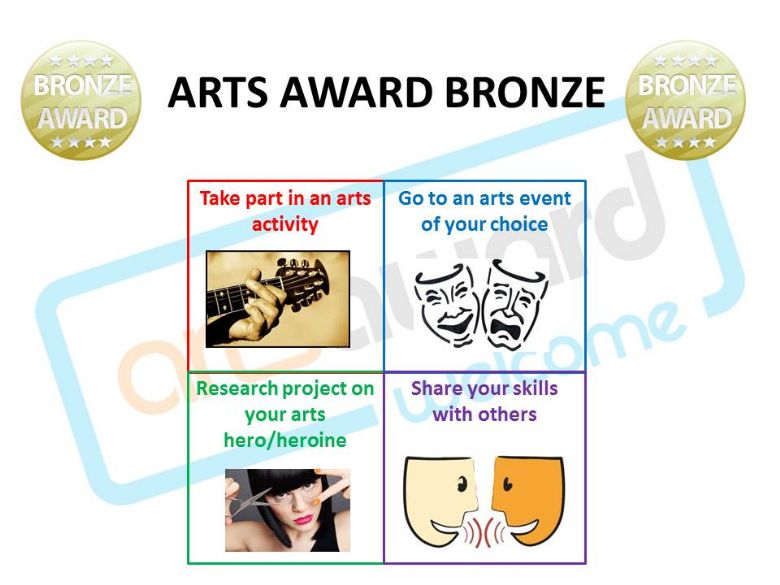 Autumn 1
Art Award Taster Lessons
This is an introduction into the Arts Award Bronze qualification. Students will actively engage in taster sessions on each of the four areas of the Arts Award.
Taking part in an arts activity
Completing a research project on your arts hero/heroine
Sharing an arts skill
Reviewing an arts event
This will help them to prepare and plan for their Arts Award portfolios.
The Arts Award counts towards GCSE points at Bronze level.
An introduction to Theory
Basic music notation/ Rhythmic/ melody
More advanced students Grade 5 theory.
Autumn 2
The History of Music/ Performance studies
Students will develop their aural awareness through an understanding of Music history. Students will take a journey through time to explore the famous composers of each period of music and their famous works. They will become more familiar in recognising orchestral instruments, and learn how these instruments developed over the course of time.
Periods of Classical Music: Baroque, Classical, Romantic,20th Century
In addition, students will be involved in a number of performance master classes. To prepare for their solo performance exams.
Spring 1
An Introduction to Composition
As students become more confident with music theory they will develop their compositional skills through either:
Performing their own compositions for their own instrument
And/or
Using Logic Pro or Sibelius as a compositional tool
Students will be introduced to the GCSE composition assessment criteria and learn how to meet both the creative and practical standards required.
A celebration of their compositions will be performed/ heard in a lunchtime concert.
Spring 2
Arts Award Hero/Heroines
This is an ICT based project that uses the programme Logic Pro on the Apple Macs to create a radio podcast interview. Students research information about their favourite arts hero/heroine and write a radio-style interview. Using a range of recording devices students record, edit and mix their interview with a variety of different audio clips, using a variety of functions to effect and manipulate the sound.
Students have the option to submit this podcast as evidence of the Arts Award Arts Hero research.
Summer 1
World Music
Practical workshops exploring music from a variety of cultures around the world. This is a scheme of learning designed to develop listening and performance skills. It is aimed at improving knowledge and understanding of music from other cultures by visiting a different country each week. Students are provided with a number of learning experiences of a practical nature where they learn about instruments from around the world.
Summer 2
Examination Preparation
Students will be developing their examination skills to prepare for their end of term exams. They will be examined on their Performance ability, compositional creativity and history of music.
The exam elements will require students to have a sound knowledge of music theory and aural awareness.