Apprenticeships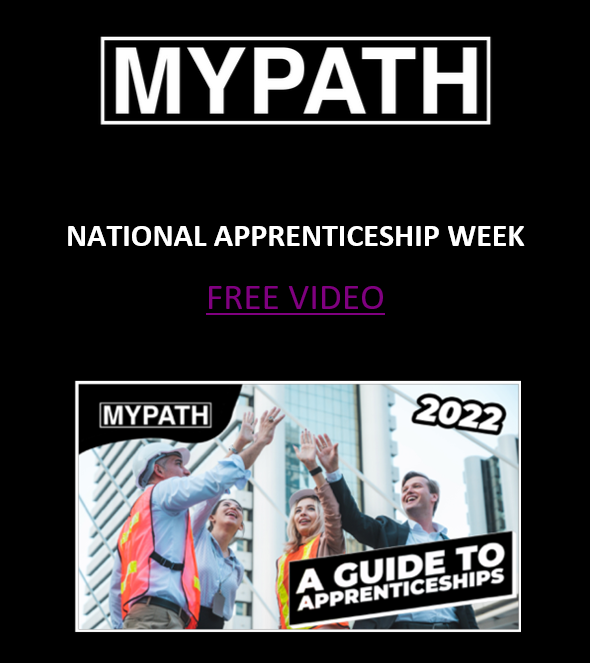 Click here: MyPath Video
---
What is an apprenticeship?
An apprenticeship is a skilled job with training. Every apprentice is guaranteed a minimum wage linked to their age. They're available at all academic levels - whether you're leaving school without GCSEs or completing your A-levels. There are apprenticeships in industries like engineering, health and accountancy - plus a host of careers you'd never think of. And 9 in 10 apprentices stay in work after completing their course.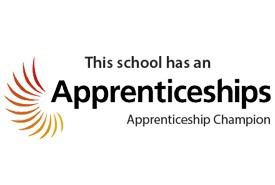 Click here to find an apprenticeship.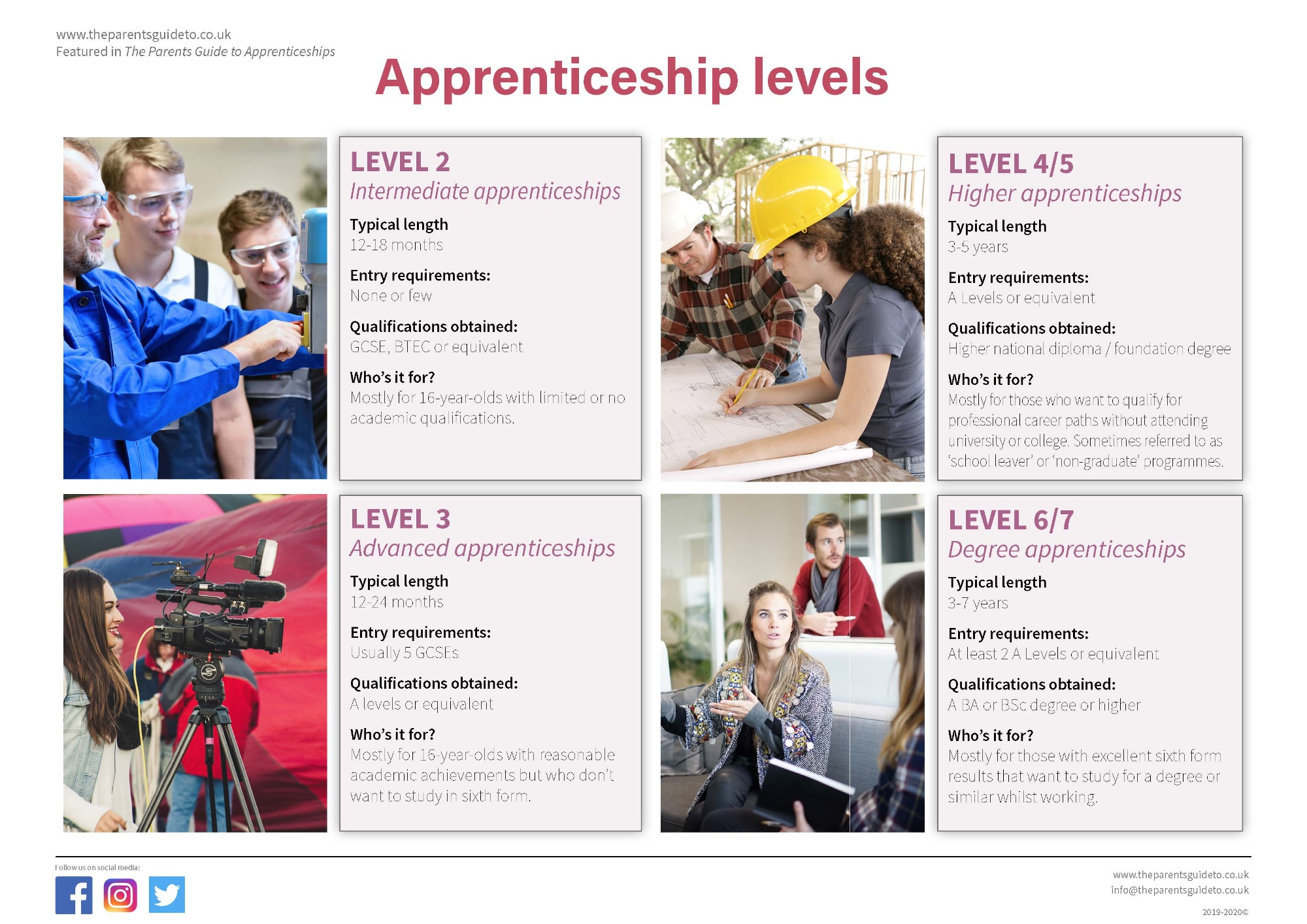 Intermediate apprenticeships – Level 2
Intermediate apprenticeships are the first rung of the apprenticeship ladder and primarily for 16 year olds. They are a brilliant way to break into an industry straight out of school or college. Entry requirements vary from scheme to scheme but most require a minimum of two or more GCSEs grades 9 to 4.
Intermediate apprenticeships split their time between working for an employer, and studying towards professional qualifications at a college or training provider. Each programme is organised differently. You may spend one day a week studying at college and the other four days at work. Or you might work on a full-time basis and be released for study periods throughout the year.
Like all apprenticeships, you receive a wage and they help you gain the soft skills required to confidently enter the workplace. During the apprenticeship you will work towards a professional qualification that is the equivalent to 5 GCSE passes graded 9 – 4, and can be used to apply for an advanced apprenticeship.
Advanced apprenticeship – Level 3
Advanced apprenticeships are the next step up from Intermediate apprenticeships. Advanced apprenticeship programmes generally last around 24 months and are the equivalent to two A levels. Although the current minimum wage is £3.90 an hour many employers offer a higher salary. Entry requirements for an advanced apprenticeship are completion of an intermediate apprenticeship or generally five GCSE passes grades 9 – 4 including English and maths. An Advanced apprenticeship will provide two years of relevant work experience, practical skills and qualifications.
https://careermap.co.uk/advanced-apprenticeships-know-options
Higher apprenticeships - Level 4/5
A higher apprenticeships is your ticket to a high-skilled job. You'll usually need at least 2 A-levels to start one, and you'll come out with qualifications equivalent to a foundation degree or higher - with any tuition fees paid by your employer! Higher apprentices can earn between £300-500 per week (although you may start lower). You could train to be a solicitor or a lab scientist, and even learn how to design sweets with a confectionery apprenticeship!
Degree apprenticeship - Level 6/7
Degree apprenticeships guarantee you a university degree, as well as on-the-job training for a high-skilled job. You'll spend 30 hours a week learning from experienced colleagues at work, and the equivalent of one day studying towards a bachelor's or master's degree at uni or college. It gives you the kudos and academic grounding of a degree along with sought-after employability skills employers say graduates don't have. And 8 out of 10 parents think it's better than an Oxbridge degree!
Should I apply for an apprenticeship or university?
Today, apprenticeships offer a route into high-skilled jobs that you had to go to uni to train for in the past. If you know what career path you want to follow, an apprenticeship could get you there without the fees - while enabling you to develop employability skills too. University is essential for certain careers and great for those with passionate academic interests. Carefully consider the pros and cons of both university and apprenticeships before making your decision.
Useful Websites