Park High U14 Cricket borough champions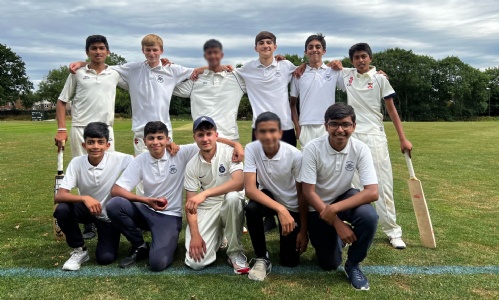 Our Park High Under 14's cricket team played against Nower Hill in the final for Harrow borough champions yesterday, Tuesday 12 July 2022.
Park High were put into bat first, with Ved and Mubarak opening. The partnership stood strong until the 14th over (of a 20 over game). Both Ved and Mubarak hit 63 before they were each caught out trying to clear the ropes. Anush came in and added a late flurry of boundaries, leaving us wondering if we might have taken the game out of Nower Hill's reach. Connor, Saahil and Hunain all contributed with the bat and after 20 overs we had posted 206/4.
There was a short boundary, down the hill, perhaps making 206 not quite the score it sounds and so we knew we needed to be focused going into the field.
Nower Hill sent in their Middlesex batsman to open. Mubarak, who usually boasts an exceptional economy, was hit for 9 and 7 off his first two overs. Zubair went for 16 and he was removed from the bowling attack. Ved brought Anush into bowl and then came the decisive moment of the match. Anush bowled four balls outside the off stump, conceding only two runs, from his opening four deliveries. Then he attacked the stumps with a slightly shorter ball. Their main batsman caught it sweetly but sent it way up. It looked as though it might go for 6 and stayed in the air for what seemed an eternity… before Zubair took an outstanding catch, just inside the boundary. Our team rushed towards him sensing that the game might be theirs!
Our Under 14's cricket team beat Nower Hill in the final, and became Harrow borough champions! Nower Hill finished up on 114/6.
Congratulations to our Park HIgh Under 14's Cricket Team, Connor 8TC, Mubarak 8TC, Anush 9BZ, Ved 9BR, Hunain 9BR, Saahil 9TI, Zubair 9RD, Ayush 9RD, Arjaav 9RD, Dylan 9SC and Aum 9SC.
Connor has now been part of a football, basketball and cricket borough champion side this season.
Our Park High Under 15's cricket team will play in the borough final against Pinner High on Thursday 14 July.