Jack Petchey Achievement Awards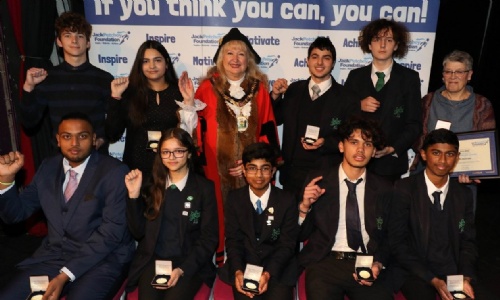 The Jack Petchey Achievement Award Scheme, recognises and celebrates outstanding young people who have gone above and beyond to achieve. Awards mean different things to different people. The Achievement Awards are not solely for academic achievement – they may be used to recognise a personal triumph for someone who has faced a challenge, a young person who has pushed themselves outside of their comfort zone or it may be an opportunity to recognise the outstanding efforts of a team player. A young person is nominated by their peers in their school or youth organisation. An important part of the scheme is the involvement of young people in selecting the award winners for their hard work and efforts.
Nine of our Park High students, were nominated for an Achievement Award. On Tuesday 7 March 2023, our Award winners along with our Jack Petchey Co-ordinator Mr Fowler and our Leader Award winner Ms Ward attended a Jack Petchey celebration event in Harrow. All of the award winners were presented with their awards in front of their families, friends and VIPs. Each award winner received a medallion, a certificate, pin badge, a book from Sir Jack Petchey and a £300 grant to benefit their school, each student chooses how the money will be spent.
Congratulations to all our fantastic students who have gone above and beyond for our school and the wider community.
Award Winner
Vikas 8JF
Reason for Award
Vikas is constantly kind and helpful and forgiving. He's been strong and positive through challenges. He helps and supports teachers, making one of them a card to encourage them.
The £300 grant will go towards Modern Foreign Languages vocabulary books.
Award Winner
Kaajal 10SN
Reason for Award
Kaajal is always willing to help others through academic and emotional/social problems and always puts others' needs before her own. She has also recently been volunteering her own time at a local scouts centre for a young group of scouts aged around 6-8.
The £300 grant will go towards a school Bench.
Award Winner
Alexandru 10KE
Reason for Award
Alex's dedication to learning volleyball has been astounding. He began by turning up to a school club, having played in lessons. He made it onto the school team and started coming in early to practice. Now he is regularly in school shortly after 7am, setting up the nets and working on his technique before others arrive. He has found a volleyball club outside of school and has improved his knowledge to such an extent that he is now able to coach and guide his peers.
The £300 grant will be spent on a Volleyball net and antennae.
Award Winner
Eduard 11RS
Reason for Award
Eduard has made a fantastic improvement in his behaviour and is now part of the prefect team after a successful probation period. He has demonstrated a compassion for his fellow students and I have seen him on multiple occasions stopping and checking in on students who are by themselves, who are eating alone or who look like they may need help. He goes out of his way to help staff members and if a polite and conscientious student. He has made a real difference to his overall conduct in a really positive way and should be recognised for this.
The £300 grant will go towards the School prom, venue hire.
Award Winner
Salmaan 11DL
Reason for Award
Supporting and helping a neighbour through the pandemic including collecting their shopping. A positive student to others and teachers.
The £300 grant will go towards Balloons for the school prom and Globes for classrooms.
Award Winner
Sabeeh 11YC
Reason for Award
Sabeeh has an outstanding attitude to learning, impeccable manners, and an exceptional work ethic. He not only models excellent behaviour but he has shown what hard work can achieve as his writing has improved significantly throughout the year, and is already working at a high level in English literature. Moreover, he has been very helpful in and outside of lessons when he thought I was in need. He is a very sincere and dignified young man who has been a pleasure to teach and who sets a good example for his peers - encouraging them to strive for excellence in class.
The £300 grant will go towards a school Bench
Award Winner
Kushh 12BP
Reason for Award
Kushh has given up so much time to help us in PE. He operated a drone so we could take photos of our facilities, he worked on our cricket wicket to have it ready for a fixture and he assembled a piece of machinery to be used on the wicket. He has also given up his evenings to help coach cricket and to help score at cricket fixtures. All of this has been on a volunteer basis, simply through him coming to ask if there is anything he can do to help.
The £300 grant will go towards a Trampoline push-on mat.
Award Winner
Nikita 13HK
Reason for Award
Nikita, despite dealing with some issues at home, is continuing with working hard and studying for her A-Levels. She is providing a caring role for a family member at home, whilst keeping on top of what is required of her at school, and maintaining a positive attitude towards learning. She has shown high levels of resilience through all of this, and at the same time, shown compassion for her fellow peers and supporting them with any concerns they too have.
The £300 grant will go towards the School prom, venue hire.
Award Winner
Ryan Thiel
Reason for Award
Every Saturday Ryan goes out of his way to help a charity shop in Stanmore (St Luke's) which he does completely voluntarily. Not only has he been consistent but he is kind-hearted and also works hard in school as a prefect. Ryan has helped around the school and is a great role model to others and also works hard in and out of school.
The £300 grant will go towards Basket balls, Table tennis balls and Globes for classrooms.


The Jack Petchey Foundation was set up to inspire and motivate young people across London and Essex by providing exciting projects and programmes for them to get involved in. The Jack Petchey Foundation recognises the outstanding achievements of today's young people by awarding them for their hard work and positive impact in their community. Sir Jack Petchey CBE believes each and every young person should be given the chance to achieve. As he always says; "If you think you can, you can!"
Find out more about the Jack Petchey Foundation and the Achievement Awards Process here.