Park High alumni shortlisted for the Women in Tech Award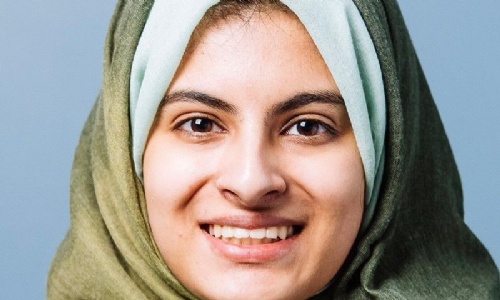 Alaina Jaffer ex student at Park High School, has been shortlisted for the Women in Tech Award. After finishing Sixth Form at Park High School in 2019, Alaina chose to study a degree apprenticeship with KPMG in Software Engineering. Alaina has been back to Park High and spoken to our Sixth form students about her journey.
Below is her profile:
"My career in technology began with a strong foundation in computer science. I pursued my interest in this field by studying GCSE and A-Level computer science, which provided me with a solid understanding of programming concepts and algorithms. It was during this time that I developed a keen interest in software engineering and decided to pursue it further.
After completing my A-Levels, I embarked on a software engineering degree apprenticeship with KPMG and Queen Mary University. This unique opportunity allowed me to gain practical experience in a professional setting while simultaneously earning my degree. The program exposed me to a wide range of technologies and methodologies, giving me a well-rounded understanding of software development.
Throughout my apprenticeship, I had the opportunity to work on various projects, both internal and client-facing. These projects spanned different industries and sectors, enabling me to acquire a diverse skill set. I focused primarily on web development, specializing in both backend and frontend development.
In my role as a software engineer, I have extensively worked with JavaScript, React, Node.js, and TypeScript. These technologies have become the cornerstone of my development toolkit, allowing me to create dynamic and interactive web applications. With JavaScript and TypeScript, I am able to write efficient and scalable code, while React and Node.js provide me with the necessary tools to build robust frontend and backend solutions.
Throughout my career, I have been driven by a passion for innovation and a desire to create impactful solutions. I constantly strive to stay updated with the latest trends and advancements in technology, attending conferences, participating in workshops, and engaging in continuous learning.
My experience in software engineering has shaped me into a versatile developer with a strong focus on web development. I possess the ability to work on both frontend and backend aspects of a project, enabling me to create seamless and efficient applications. Additionally, my exposure to various industries and projects has honed my problem-solving skills and taught me to adapt quickly to new challenges.
As I look to the future, I am excited to continue expanding my knowledge and skills in technology. I am passionate about exploring emerging technologies and leveraging them to create innovative solutions. I am committed to making a positive impact in the field of software engineering and contributing to the advancement of technology."
If you would like to vote for Alaina the link is here:
Voting closes on 13 September.