Park High Roboteers Regional winners for the EEP Robotics Challenge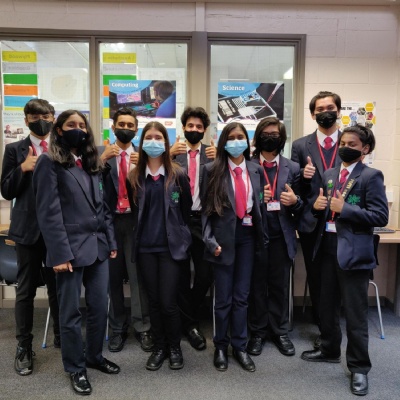 After the Easter holidays, the Park High Roboteers got together to participate and compete in the Robotics Challenge Digital 2021 organised by EEP Robotics Challenge. Despite the challenges of the pandemic they put in their best efforts and whole load of enthusiasm. Lunch times and after school sessions were spent to find solutions for the following chalaenges:
Scratch Challenge – Developing Coding skills using the virtual space
Project Presentation- Finding Solutions to Global Challenges -problems faced by Agriculturists
Robot Design & Speed Control Challenge -Developing Creative and problem-solving skills.
Over the space of two weeks me and many others joined a robotics club and competed in a robotics competition. There were many parts each of us worked on, for example, speed, coding, and the presentation. Me and Hussein worked on how quickly the robot we created could travel over a certain distance within in a certain timeframe. The experience was very enjoyable, and we had lots of fun, although at times it was difficult and tiring using our free time at lunch and after school to work on the robot. The process of making the robot faster was quite challenging, and we had to research how to attach gears together in a way so that the wheels would move faster. We put our ideas forward and by making small changes we were able to make it travel faster. Another issue we faced was how heavy the robot was. We could add more gears and wheels to make the robot move faster, but by adding so many parts the robot was quite heavy and slow. It was difficult trying to keep a balance between the parts and weight, but by working as a team we managed it! The others also put in lots of effort for their jobs, such as creating the presentation or coding. - Benafsha Dinarkhail
For the project presentation we had to choose a topic that we were passionate about, and it had to involve engineers pioneering solutions to problems that are faced in the world today. We chose the topic- Agriculture. We decided to choose this topic because not many people in today's world decide to go into primary sectors of industries because it involves a lot of work but not much income. Agriculture is essential to the world we live in and for basic everyday necessities. We had to do research on crops and how to increase crop yield. We also got expert testimony from an actual farmer (my grandad) about the struggles of farming and using pesticides. We researched about solutions to the struggles and problems and filmed and edited a video together for the presentation. Issues that were faced when finding the solutions were that there are not many resources to use to find about innovations being made that are new and up-coming. But we were inspired by small businesses that created robots to help farming and inspired by solutions that involved artificially creating an environment for plants to thrive in. Along the course of filming, we also made a lot of bloopers and won the Best Blooper prize for our contribution. - Aditi Hari Balaji
Following a rigorous review process, their excellent team work, design, creativity and problem-solving skills, shone through, and we were delighted that the Park High Roboteers were selected as Regional winners and made it through to the UK Finals of the EEP Robotics Challenge. Park High were Regional Robotics Challenge Winners for Best Team Work and Best Bloopers!.
Students and staff were given the opportunity to engage with the STEM Ambassadors to ask questions and interact with them about potential future Careers. This helped our students to better understand what stable careers are available to them if they wish to pursue a STEM based career, especially considering the current pandemic.
Through the combined effort of our team and our teacher as well, who helped a tremendous amount, we managed to win the regional competition and are now competing in nationals! The overall experience was amazing, so I am very excited to compete in the next round. Working together as a team was amazing and fun, I would definitely re-join the club next year! - Benafsha Dinarkhail
A massive congratulation to the team and all the best for Next Year !